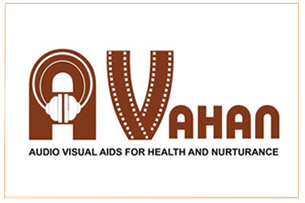 For Marketing enquiries contact
Cell : 91-9870600356
mail: avahaniph@gmail.com
AVAHAN is an audiovisual wing of IPH, which started in 2008. The word AVAHAN means to beckon. We wish to beckon people to come forward to carry the task of this mental health message further. Hence, we started documenting our work in the form of CD/DVDs.This medium was also vital to reach out to more & more people who could not personally attend our programs. Power of this medium is that one can carry DVDs in interiors & spread the message. The language of images reaches better & faster than only lectures. We started documenting our in-house activities and started developing our own range of 'software' through different IPH programs & also creating on our own. Manatarang is the first ever film festival in the country being regularly conducted on the theme of Mental Health.
Special feature of AVAHAN is that all the products are completely in house production. Right from concept, script, shoot, post-production & designing of jacket everything is done at IPH. Till date we have produced around 55 CDs & DVDs on the topics ranging from Parenting, Anger Management, Inspiring interviews of eminent personalities, talk shows, lecture series etc.
Utility of these aids
AVAHAN - OUR YouTube CHANNEL
It's the first ever you tube channel dedicated to mental health. We have already uploaded over 225 modules on the channel. Based on the viewers' response (more than 23K). We are very proud to share that Google has recently given us the status of Advertisement sponsored channel.
Current status:
We have an enthusiastic creative team with a formidable back up of socially sensitive metal health professionals from the IPH team.
We have our own in house editing as well as sound mixing facilities & have our own dubbing- subtitling unit.
We also have lights & other equipment to shoot community/studio programs.
OUR WORK:
'Prakashdoot' - Prakashdoot is a unique kit of psycho-educational software aiming at sensitizing the society about two prominent challenges in the field of mental health namely 'Depression and Addiction'. The audio as well as audiovisual presentations in this kit cover different aspects of the challenges in lucid Hindi and Marathi languages. The kit is aimed at workers and professionals in the field of community mental health to be used to sensitize their target populations prepared by a team of professionals experienced in the field of mental health as well as creative use of media. This kit will prove valuable to any individual or group committed to create mental health awareness.
This kit is not only used in Maharashtra to day but also Chhattisgadh, Dang district of coastal Gujrat & in coastal areas of Karnataka by health workers. Avahan has created 2 documentary short films for Muktangan deaddiction center in Pune.
Roj nava divas - Muktangan deaddiction Center in Pune completed 25 years in the year 2011. On this occasion Avahan made a documentary on their work for de-addiction for so many years. It highlighted the challenges they faced in the earlier days and how they managed to overcome all the obstacles and their journey so far. This film illustrates the evolution of the center as well as the ethos behind the mission.
Navi Pehchan - This was another project done for Muktangan. It was basically an awareness campaign to address the issue of addiction in Punjab. It shows the real picture of how several families and their extended families are affected in several areas of life due to the large scale addiction…specifically drug addiction. A renowned pharmaceutical company Sanofi commissioned Avahan to make a promotional film on Bipolar disorder. This project was successfully completed.
Faith Beyond Fear - We made a film on Shraddha Rehabilitation Center located at Karjat. Dr. Bharat Vatwani the founder of this center won Magsaysay award recently. His immense work in the field of mental health impressed us and we decided to spread the word using this as a medium for the same. Shraddha Rehabilitation Center works for the mentally ill who are homeless and wander on streets for their living.
Avahan Co-ordinators

Sachin Gaokar

Shailesh Medge